Minor League Roundup (July 9th to July 15th)
Every week I'll be diving into the Blue Jays system to see how the up and comers have fared in the past 7 days. I'll only be looking at the prospects in the system, so, sorry to the Ruban Gotay types out there, you'll continue to be ignored.
Its very important to note, that while this is can be a useful exercise, its important to not take the stats put up in the minor leagues as gospel. Minor league numbers can very often be deceiving, the calibre of competition can frequently vary wildly (often within the same game eve), and frequently skills that allow you to thrive in the minors wont translate at all to the majors (such as being a mistake hitter, or relying on a trick pitch for strikeouts). Also, minor league teams don't do advanced scouting, so holes in a players game that can be exploited at the next level won't become apparent. So take anything I'm saying here with a healthy grain of salt.
I'll be writing up one team per day (Las Vegas on Monday, New Hampshire on Tuesday, Dunedin on Wednesday, Lansing on Thursday, & Vancouver (and lower) on Friday. Since it's the first week I'm doing this, I'm a day behind, but I'll catch up by rolling the Vancouver recap together with Lansing on Friday, next week we should be on a regular schedule.
Last thing I'll mention here, is that I'm doing a write up on the previous week's results. Not looking ahead to what they've done since Monday, so in some cases (McGuire's for instance) results in their appearances early this week might've changed my opinion on some of what they've done during the week I'm profiling here.
New Hampshire Fisher Cats (AA)
July 12th – 4-2 Loss @ Portland
July 13th – 4-3 Loss @ Portland
July 14th – 3-1 Loss @ Portland
July 14th – 9-1 Loss @ Portland
July 15th – 5-1 Win @ Portland
Like the 51s (who were profiled yesterday), New Hampshire had an abbreviated week due to the AA all-star break. Coming out of the break, the Fisher Cats continued to show why they currently have the worst record in the Eastern League by losing 4 of 5 to the Portland Sea Dogs.
Mike McDade – 1B – 23 Years Old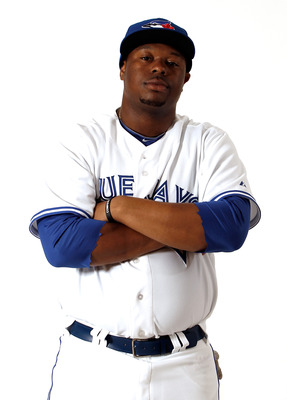 AA Line – 387 PAs - .284/.362/.452 – 14 HRs, 46 RBI, 40 Runs, 1 SB, 0 CS, 73 Ks, 39 BBs
Weekly AA Line – .117/.211/.294 – 1 HR, 1 RBI, 2 Runs, 5 Ks, 2 BBs
AA All-Star Game – 4/4 – 3 1Bs, 1 2B, 2 RBI
July 12 – 1/3 – 1 HR, 1 RBI, 1 Run, 1 K, 1 BB
July 13 (Day) – 0/3 – 1 K
July 13 (Night) – 0/3 – 1 K
July 14 – 0/3 - 1 BB
July 15 – 1/5 – 1 1B, 1 Run, 2 Ks
Mike McDade had an up and down week. He was outstanding while playing the entire Eastern League All-Star game at DH, and just narrowly missing the MVP award of that game. He then homered in his first game after returning to the Fisher Cats, but then did almost nothing the rest of the week.
The biggest problem that McDade has a prospect is the position that he plays.
To use a term that BP's Kevin Goldstein uses on a regular basis, he suffers from the curse of the first base prospects.
For you to be a truly legit prospect at first, you really need to profile as an elite middle of the order hitter, and McDade doesn't really have the profile.
So yes this guy was an all-star this week, but please temper your expectations.
Jake Marisnick – CF – 21 Years Old
AA Line – 46 PAs, .262/.311/.405 – 1 HR, 4 RBI, 5 Runs, 0 SB, 1 CS, 11 Ks, 1 BB
A+ Line – 306 PAs, .263/.349/.451 – 6 HRs, 35 RBI, 41 Runs, 10 SBs, 5 CSs, 55 Ks, 26 BBs
Weekly AA Line – .267/.375/.333 – 1 2B, 1 RBI, 1 Run, 3 Ks, 1 BB
July 12 – 0/3 -
July 13 (Day) – 2/4 – 1 1B, 1 2B, 1 RBI, 1 Run, 2 Ks
July 13 (Night) – Off
July 14 – 0/3 – 1 K, 1 BB
July 15 – 2/5 – 2 1B, 1 K
Marisnick has gotten off to a very respectable start to his career in AA. Its nothing that jumps off the page at you, but you have to consider that he's just 21 years old. Marisnick is still one of the main shining lights in the Jays system (when it comes to position prospects). He has a prototypical power hitter's frame, even if its one that may shift him to a corner position down the line. This week has been a representative example of the slow development he's going through as he moves up the line.
The Fisher Cats are probably home to the two most disappointing prospects in the Jays system this year, in Chad Jenkins & Deck McGuire, and really that's it in terms of talent on the mound. That's especially the case now that Sammy Dyson, & Aaron Loup have gotten the call. Its probably a pretty good reason as to why they are sweeping up the basement of the Eastern League at the moment.
Deck McGuire – RH Starter – 23 Years Old
AA Line – 97.2 IP, 4-9 W-L, 5.90 ERA, 1.454 WHIP, 6.6 K/9, 3.5 BB/9, 1.5 HR/9
July 13 (Day) – No Decision, 6.1 IP, 3 Runs, 5 Hits, 7 Ks, 0 BBs, 2 HRs
For a pitcher who has been an almost universal disappointment thus far this season, what we say this week was a step in the right direction (and a continuation of what we saw in his start before the break). Thus far this season, McGuire has had two issues plaguing him, 1) an inability to miss bats, & 2) a propensity to give up home runs. In his last two outings he's cleared up 1 of those problems striking out 17 batters, and only walking 1. However the home runs continue to become a problem, as evidenced by the 2 he gave up last Friday. Its been largely an up and down season for the big Virginian, and this doesn't to anything to disprove that assertion.
Chad Jenkins – RH Starter – 24 Years Old
AA Line – 94 IP, 4-9 W-L, 5.55 ERA, 1.638 WHIP, 4.1 K/9, 2.0 BB/9, 1.2 HR/9
July 14 – Loss, 5 IP, 6 Runs, 13 Hits, 4 Ks, 0 BBs, 1 HR
While we saw some positive signs were seen the past week from McGuire, the opposite was true for Jenkins. Another disaster start from the strapping 6'4 Tennessean. Trying to find positives the 4/0 K/B ratio was nice, but when you give up 13 hits, that's obviously not nearly good enough. He was seen as a rotation option coming into the year, but quite simply he is far too hittable. He's shaping up as yet another disappointing draft pick from the JP Ricciardi era.
Aaron Loup – LH Reliever – 24 Years Old
AA Line – 45.1 IP, 0-3 W-L, 2.78 ERA, 1.324 WHIP, 8.5 K/9, 2.8 BB/9, 0.8 HR/9
Weekly AA Line – N/A
AA All-Star Game – 1 IP, 0 Runs, 0 Hits, 1 K, 0 BB, 0 HR
Aaron Loup started the week getting a surprise call for the AA all-star game (after Sam Dyson was called up to the big team). He impressed in the showcase game, pitching a clean 3rd inning, and soon after that was called up to the big league team. Not a bad week for the submarining lefty. However his call up, means that future Fisher Cats previews will be even more bereft of prospects. Good for the big league team, bad for someone who's writing prospect recaps.
I'll be back tomorrow to take a look at the Dunedin Blue Jays. See you then.
You can follow me on Twitter,
@Mentoch
.To connect with the site,
Follow us on Twitter
, and
Like us on Facebook
.