As we are a Blue Jays centred blog, we'll be doing a 2 part series for our 30/30 preview of the team. Today, we'll publish previews on each hitter on the 25 man roster(starter+bench), Wednesday will be each pitcher(rotation+bullpen).So, it ends up being a 30 in 34 days! We all contributed to this, so under each name of the player, we'll write who wrote the preview. Enjoy.
*Note, Brett Lawrie isnt included in here, as he'll start on the DL and the first two sections are just dealing with the opening day roster. He'll be profiled during the 3rd section where depth & prospects are discussed.
All the smiles!
Jose Reyes-SS- 29 years old
2012 Stat Line-
716 PA, .287/.347/.433, 11 HR, 57 RBI, 86 R,40 SB, 109 wRC+.
2012 WAR:2.9 rWAR. 4.2 fWAR.
2012 Season in Review
Last season certainly wasn't a career year for the Dominican shortstop, but that doesn't mean he wasn't very productive, accumulating a 4.2 fWAR, over a whopping 716 plate appearances. If Reyes plays as many games this year as he did last year, you can count on those plate appearances increasing even more, based on the strength of the lineup around him. Overall, while Miami wasn't the greatest of situations for Jose, he still put up some very nice numbers, while managing to stay healthy.
2013 Season Preview
Jose, a product of the huge deal with Miami, is already making a name for himself in Blue Jay land. From his stellar play in the World Baseball Classic, and his inability to stop smiling. He is a fan favourite, and the Jays haven't even played their first regular season game.
One of the major concerns coming into the season with Reyes is whether he will be able to handle the artificial turf at the Rogers Centre. It is a reason to be worried, as he has had hamstring problems in the past, and historically, the turf hasn't always been great on players' legs. The good thing is that it's usually the knee with turf, not hamstring, so hopefully Reyes remains healthy.
The thing is with a player like Reyes, is that if he isn't hitting the ball too well, it's not a huge concern, as he has ways to get on base with his legs, and his eye at the plate, so he's never hurting you if he's in the lineup no matter what, and is almost a lock to post a WAR around 4 every single year (if healthy).
2013 Projected Role
The leadoff hitter. The man who gets on base for the big bats, and steals a ton of bases. Also; provides leadership and optimism in the clubhouse with his enthusiasm for the game.

2013 PECOTA Projection
650 PA, .291/.344/.457, 14 HR, 65 RBI, 91 R, 36 SB
2012 Stat Line-501 PA. .346/.390/.516. 11 HR. 60 RBI. 84 Runs. 13 SB. 149 wRC+.
2012 WAR:
4.7 rWAR, 4.4 fWAR.
Review of 2012
What can I say about the Dominican outfielder that hasn't been said before? He has really come on in the last two years with the Royals and then developed into a superstar with the Giants in 2012. He was subsequently suspended for 50 games for PED use, and was not added to the post-season roster for their eventual World Series run while also not being given a ring, which he hopes to claim, clean, in Toronto.

Preview for 2013
That's the brief on Melky, and adding to that, Alex Anthopoulos further fueled the fire by signing the outfielder to a 2yr/ $16 MM deal in November to compliment the massive Miami deal and the famous R.A. Dickey deal to complete the most eventful offseason in recent baseball history. I don't see Cabrera hitting .346 again, but I do see him being a very good hitter, provide solid defense in left field, and a key piece in any Blue Jays postseason push.
2013 Projected Role
Melky will be the number 2 hitter in the lineup and play left field for the Jays in 2013
2013 PECOTA Projection
551 PA, .280/.331/.427,13 HR, 56 RBI, 70 Runs, 12 SB
Blue Jays 2012 in one picture.
Jose Bautista- RF- 32 years old
By:Gideon Turk

2012 Stat Line-399 PA .241/.358/.527. 27 HR. 65 RBI. 64 Runs. 5 SB. 140 wRC+.
2012 WAR :3.4 rWAR. 3.1 fWAR.


2012 Season In Review
After starting off cold in the month of April hitting only 3 home runs, Jose turned it back onto 2010 and 2011 levels in May and June, hitting 23 homers in those 2 months, while OPSing over 1.000. He then went on to play in the all-star game and hit in the home run derby, but he only lasted 4 games after the break before he injured his wrist at Yankee Stadium, which ended up costing him basically the rest of the season(except for a 2 game period in mid-August).


2013 Season Preview
Jose had wrist surgery to repair the effected spot, and was back to his usually self this spring, hitting 6 home runs in the tune up games, good enough to lead all Blue Jay hitters. He comes into this season as a dark horse AL MVP candidate, and is truly the piece who holds this club together, both on and off the field. His health will be in the spotlight the entire year, but from what we've seen during spring training, he should be back to normal, with hopefully no residual effects from the wrist injury and subsequent surgery. Expecting him to hit 40+ home runs again might be a little too much, but mid 30's is very reasonable, and he will still be able walk frequently in front of the other Dominican basher, Edwin Encarnacion.

2013 Projected Role
Bautista will serve as the number 3 hitter in the lineup, hopefully driving in Jose Reyes and the Melk Man whenever is possible. He will also continue his role as the leader of the club, something that was missed after he left last year to injury, and anchor the outfield in right with his rocket of an arm(and lacklustre defense, but whatever...)

2013 PECOTA Projections
628 PA. .255/.371/.514. 35 HR.101 RBI. 7 SB
Edwin Encarnacion, 1B/DH, #10
By:Nick Bell
2012 Stat Line:
644 PA, .280/.384/.557. 42 HR. 110 RBI. 90 RBI. 13 SB. 152 wRC+
2012 WAR:
4.9 rWAR. 4.2 fWAR
2012 Season in Review
T
he Blue Jays clean-up hitter heading into 2013 had a breakout year last year, posting career highs in nearly every offensive category while playing some stellar defense at first base. The native of the Dominican Republic was the Blue Jays' best and most consistent hitter by far last year as Jose Bautista spent significant time on the DL. 2012 was a great year for EE, now let's hope that he can build on this magnificent year towards an even better 2013.
2013 Season Preview
Many wonder if Encarnacion can repeat that type of production or if this was merely a fluke year. Me personally, watching him hit this spring and in the WBC, he looks like he had gotten even better. If that's true, it is possible that Edwin could match up with fellow countryman Jose Bautista for the team and league lead in home runs. You can also expect #10 to make his first all-star team, which he was robbed of last year, especially given Mark Teixeira's injury problems taking another first baseman out of the mix.
2013 Projected Role
Encarnacion can be expected to have almost the same exact role as last season. Entrenched solidly in the cleanup spot behind Jose Bautista, and be the club's everyday first baseman.
2013 PECOTA Projections
643 PA .254/.341/.471, 30 HR, 94 RBI, 8 SB
Colby Rasmus- CF-26 years old
By:Gideon Turk
2012 Stat Line-
625 PA. .223/.289/.400. 23 HR. 75 RBI. 75 Runs. 4 SB. 85 wRC+
2012 WAR:
1.7 rWAR. 1.2 fWAR
2012 Season in Review
It was another season to forget for the once promising center fielder from Alabama. After struggling to
begin the year, Colby turned on the jets in June(just like others in the lineup). However after he got back from the All-Star break, he faded, hitting an abysmal .176/.238/.278 in those final two months, although he did miss sometime to injury. AA has been saying that the reason for that absolutely horrendous stretch was that Colby works too hard. Taking way too many swings in the cage and BP early in the season, causing him to wear down in the last few months. I don't necessarily buy that, but regardless, 2012 was a horrific year for Colby as he saw his numbers drop and top prospect Anthony Gose impress in a small sample of major league time.
2013 Season Preview
This year is huge for Rasmus. He could be a non-tender candidate if he doesn't act upon his potential, especially with Gose nipping at his heels in AAA. Gose provides better D and exciting speed that could force him into the lineup. As a result if Colby struggles, AA won't hesitate to pull the plug, and call up Anthony from Buffalo. It's all about being smart for Colby, as he has to learn how to adjust to the adjustments the pitchers are making towards him, and work at a normal rate, so he doesn't injure himself and tire himself out 3 months into the season.
2013 Projected Role
Colby comes into the year projected to hit 5th and play centre field according to MLBDC every day, but John Gibbons hinted recently that Emilio Bonifacio might get some starts versus lefties in centre field, so the threat of a platoon is staring Colby in the face. Many people don't realize this, but he's actually worse against lefties than Adam Lind is, so a platoon might not be a bad thing for him(it wouldn't be).
2013 PECOTA Projections
561 PA. .242/.311/.430. 21 HR. 73 RBI. 6 SB.
Adam Lind- DH- 29 years old
By: Gideon Turk
2012 Stat Line -
353 PA. .255/.314/.414. 11 HR. 45 RBI. 28 Runs. 0 SB. 98 wRC+
2012 WAR:
0.2 rWAR. 0.0 fWAR.
2012 Season in Review
Lind's first half was surprising, not because he was so disappointing, but rather that he was sent down to AAA. It was something that caught me, and I'm sure many others off guard, just like the Ricky Romero demotion this past week. You thought it was a good idea, but didn't actually think it would happen. He was sent to Las Vegas in mid-May, when he was hitting a paltry .186 with only 3 home runs. After lighting up AAA pitching as expected to the tune of a .392 average with 8 homers in 32 games, Lind was recalled, and from that point on, hit .296 in 54 games. It was refreshing to see Lind hit the ball, especially when he went the other way against lefties. I still wouldn't have him in the lineup against a lefty, but he wasn't awful down the stretch last season.
2013 Season Preview
Lind's offensive expectations have dropped significantly since his silver slugger winning year of 2009, and even more so with all the new additions to the Jays this past off-season. He isn't expected to hit high up in the order, but rather likely in the bottom third of the order, so the pressure is not on Lind this season to perform like an All-Star. This should be he last year in a Jays uniform, but I'd also expect a new DH come August 1st, and the trade deadline has passed. I just don't think Adam Lind is a DH on a championship team. Expect around 20 home runs with a low average and a low OBP for Lind in 2013.
2013 Projected Role
Lind is projected as the number 6 hitter according to MLBDC, but I think it's more likely we see him 7th because Gibby
probably
shouldn't want 2 lefties back to back. He'll also serve as the clubs full time DH for the first month or so of the season, and then Gibby and Co. will make a decision on whether to platoon him or not. He'll most likely end up in a platoon, with either Rajai Davis or Mark DeRosa. DeRosa is my choice, although I believe the club is leaning towards Davis.
2013 PECOTA Projections
449 PA. .267/.324/.461. 18 HR. 62 RBI. 1 SB.
Emilio Bonifacio-UTIL- 27 years old
By: Isaac Boloten
2012 Stat Line - 274 PA, .258/.330/.316, 1 HR, 11 RBI, 30 R, 30 SB, 79 wRC+
2012 WAR:0.5 rWAR, 0.4 fWAR.

2012 Season in Review
2012 was shortened to only 64 games for Bonifacio in Miami, due to a thumb injury. In the small sample size that was 2012, Bonifacio, showed that power is not something he brings to the table, and established himself as more of a slap hitter. Despite 2012 not being a very productive season, Bonifacio showed his incredible speed on the basepaths, stealing 30 bases in 64 games.(!!!) On top of that, he was only caught 3 times.

2013 Season Preview
In Brett Lawrie's (hopefully) short absence to start the season, Bonifacio will likely split time between third base (against righties), and 2nd base (against lefties). Once Lawrie returns, we should see him settle into a platoon with Izturis at 2nd base, while also filing in all over the rest of the diamond when people need a day off. With the bat, you can't expect all that much, but he doesn't have much trouble getting on base, (career .329 OBP) which is really all you can ask for out of Emilio.
Once Lawrie returns from the DL, the plan is for Bonifacio to play 2nd base when Morrow, Johnson and possibly Happ are on the mound, and then likely filling in all over the diamond when people need a day off. There is also some speculation that he could see time in center field against tough left handed pitchers. Another likely role for Bonifacio is a pinch runner off the bench in a big spot late in games.

2013 PECOTA Projections
468 PA, .260/.316/.361, 4 HR, 37 RBI, 53 R, 27 SB
2012 Stat Line -
319 PA, .256/.320/.315, 2 HR, 20 RBI, 35 R, 17 SB, 82 wRC+
2012 WAR:0.3 rWAR. 0.8 fWAR.

2012 Season in Review
This past year was yet another consistent season from Maicer, who has proven that consistency is perhaps his greatest skill. He kept his strike out rate down, and posted his highest stolen base total yet. He played steady (if not stellar) defense and remained healthy and durable, which are essentially the 2 reasons that AA signed him this off-season.

2013 Season Preview
Until Lawrie returns you can expect Izturis to get some time at third base, however once Brett returns we should see Izturis settle into a strange platoon with Bonifacio at the keystone. Izturis should get the starts when the more groundball heavy starting pitchers are on the mound. That will mean Dickey, Buerhle, and potentially Happ, while Bonifacio takes the more flyball heavy starters. Izturis will also see any action filling in as the primary backup at both shortstop and third base for defensive purposes. You can expect Izturis to
2013 Projected Role
Starting third baseman vs RHP for the 1
st
week or so, then will transition into the part-time second baseman/ultra utility man. Slated to bat ninth.

2013 PECOTA Projections
494 PA, .266/.331/.384, 7 HR, 46 RBI, 56 R, 16 SB.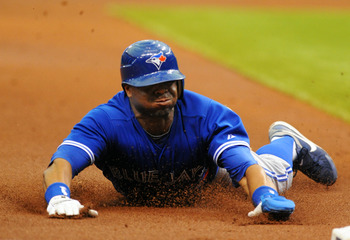 Rajai Davis- OF-32 years old
By: Gideon Turk
2012 Stat Line -
487 PA. .257/.309/.378. 8 HR. 43 RBI. 64 Runs. 46 SB. 86 wRC+
2012 WAR:
0.7 rWAR. 0.4 fWAR
2012 Season in Review
Davis was a major benefactor from the string of injuries that effected the Blue Jays last year, playing a lot more than he normally would due to injuries to Colby Rasmus, Jose Bautista, and the trades of Eric Thames and Travis Snider at the deadline. The extra playing time didn't change anything in him though, as he still stole his 40+ bases, and didn't get on base well. He got caught stealing a league leading 13 times in 2012, something that he needs to change if he wants to get opportunities this year.
2013 Season in Preview
Rajai is going to be in for a shock this season after last year. Coming off of a year where he got into 142 games, I'd be surprised if he got more than half of that in 2013. Emilio Bonifacio(if he doesn't start) will be the primary pinch runner because of his lightning quick speed and great success rate(unlike Davis). Not only will his pinch running situations decrease, but Boni also plays the outfield, along with mark DeRosa, so Davis might not get so many spot starts filling in there either. The only real chance for him to play should be platooning with Lind, but it remains to be seen if he will get that job. He'll still rack up 30 steals, but 300 PA is a major question right now, and I think something between 200-250 is more realistic at this point.
2013 Projected Role
With Bonifacio in the lineup to start the year due to Brett Lawrie's injury, Davis will be the first pinch runner, and the 4th outfielder. But, when Lawrie comes back, and Boni likely moves to the bench(along with a more permanent role for Mark DeRosa), Davis' playing time will decrease. In his last year with the club, he has become redundant, and it wouldn't surprise me to see him part of a package in a trade mid-season. Whatever his role with this club is, he is still a fun player to watch because of his speed, so when he does get a chance to play, you better not miss it.
2013 PECOTA Projections
268 PA. .261/.306/.376. 3 HR. 21 RBI. 25 SB
Mark DeRosa-UTIL- 38 years old
By: Gideon Turk
2012 Stat Line -
101 PA. .188/.300/.247. 0 HR. 6 RBI. 13 Runs. 1 SB. 57 wRC+
2012 WAR:
-0.7 rWAR. -0.5 fWAR.
2012 Season in Review
DeRosa continued to be hampered by a wrist that wasn't 100% in 2012 for the third straight year, but his mentoring skills were at their best once again, which is what he was basically brought in to do this season. He coached Bryce Harper into being a big leaguer, and has always been known for his unbelievable clubhouse presence. His numbers are ugly because he wasn't healthy(and he's old), but I'm confident he can regain some of his pre-injured self back.
2013 Season Preview
If spring training is any indication of things, Mark DeRosa's wrist is feeling better, given his 2 spring home runs. That is all that needs to be working for DeRosa to be a servicable player, especially off the bench, and although I wouldn't put much stock into spring numbers, his 6 XBH are more than he had all of last year, so I think he's in the best shape since being injured(he has also said this). He won't get much playing time, but being a great clubhouse presence and taking Brett Lawrie under his wing like he did with Harper last year is a value that no statistic can measure(seriously, there's no statistic).
2013 Projected Role
With Lawrie starting the year on the disabled list, DeRosa will platoon with Maicer Izturis over at third base, but after that, he will be regulated back to the bench, at least for April. nce the decision on whether or not Adam Lind needs a platoon partner is made, DeRosa might find himself in another platoon role. But, until then, it's mentoring and bench duty for the veteran.
2013 PECOTA Projections
230 PA. .241/.319/.390. 6 HR. 25 RBI. 2 SB.
He scares me.
Henry Blanco-C- 41 years old
By: Gideon Turk
2012 Stat Line -
67 PA. .188/.224/.281. 1 HR. 7 RBI. 6 Runs. 1 SB. 29 wRC+
2012 WAR:
0.2 rWAR. 0.1 fWAR
2012 Season in Review
Blanco barely played last season, and will likely have the same type of role this year as J.P. Arencibia is set to catch R.A Dickey, so a personal catcher won't be needed. Blanco made the team because the club views Josh Thole as a starting option if JPA goes down with an injury, so he needs every day at bats. Henry was horrible once again in 2012 offensively, and his defense is always a good, just like it was last year.

2013 Season Preview
Blanco just here for defense I guess, because as previously mentioned, he provides nothing with the bat. His all around defense is good though, with a good arm, good framing skills, and good blocking ability. Maybe he'll teach JPA a few things, but other than that, his season should be just like every other he's had. No hit good defense catcher.

2013 Projected Role
As the backup to JPA, he should play once or twice a week, get to catch Dickey often, and he'll mentor JPA a bit. I think its also quite likely that after a short period of time we'll see Blanco become Dickey's personal catcher. He's here for his defense, and it'll be needed most when Dickey is on the mound. For $750K, it's good enough.


2013 PECOTA Projections
60 PA. .231/.290/.372. 2 HR. 6 RBI. 0 SB.