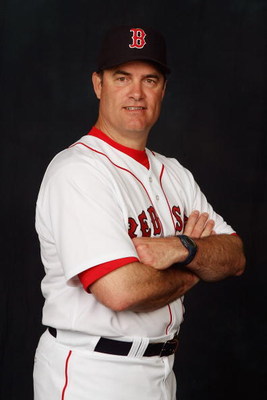 Missed me Boston?
According to Sean McAdam (@Sean_McAdam) of Comcast Sports Net, the Boston Red Sox have hired John Farrell as their manager.More to come!
Update #1:
It is a 4 year deal for Farrell to the Sox.
Update #2:
Scratch that. 3 year deal until 2015 for Farrell. Compensation being announced in the next couple of days. Jays likely to announce new manager soon(1 week or two).
Update #3:
Jon Morosi tweets via a source that a player will be moving from both teams in this trade, which likely means somebody with some value is going to be coming to Toronto! Also according to Morosi, the player going to the Jays was a Major Leaguer in 2012.
Update #4:
Morosi is trolling hard right now. He now tweets that the player the Jays are getting is an infielder.
Pedro Ciriaco
?
Jose Iglesias
?
David Ortiz
?
Dustin Pedroia
(not happening)?
Update #5:
The Jays are getting
Mike Aviles
from the Red Sox. This likely allows AA to trade one of Yunel or Hech. He might also just be a bench player, or he might even be traded. Bob Elliot of the Toronto Sun tweeted that
Adam Lind
might be going to the Red Sox in return.
Overall, the Jays came out on top on this deal, no matter how you spin it. How often are you able to trade your manager for an MLB player? Anthopolous saw an opportunity, and he took advantage of it. We might not have gotten so much out of to, but if used in a utility role, Aviles could be great for the Blue Jays in 2013. He could replace
Omar Vizquel
, and play 1 game a week at 3B,2B, and SS. When is the last time the Jays had a great bat off the bench? But, then the Jays throw in Adam Lind in the deal. Even more of a win! Lind would be owed at least $7 million this year, and with his arrival in Boston, it likely means David Ortiz won't be re-signing with the Red Sox. If Ortiz is a free agent, there is a very good chance he would sign with Toronto. Big Papi's best friend is
Jose Bautista
, and he and
Edwin Encarnacion
also get along. Can you imagine a 3-4-5 of Jose,EE,and Papi? Pitchers are scared.
Alex Anthopolous isn't stupid. He coaxed a major league player from a team for a manager, who most say isn't very good. But, in addition to that, he also(maybe) cleared $7 million that can go to a starter or one of the other needs the Blue Jays have this off-season, including a DH named David Ortiz, who won't return to Boston if Lind indeed goes there.
Update #6 8:00 AM Sunday:
Gordon Edes of ESPN Boston is now reporting that Adam Lind is not part of the deal...So much for that.
Update #7:
Multiple sources are telling WEEI Radio that David Carpenter is the player going to the Red Sox in the trade.
You can follow me on twitter,
@gideonturk
. To connect with the site,
Follow us on Twitter
, and
Like us on Facebook
.