2011 Record
: 96 - 66
Key Additions
: Aramis Ramirez (3B), Alex Gonzalez (SS), Cesar Izturis (SS), Jose Veras (P)
Subractions
: Yuniesky Betancourt (SS), Casey McGehee (3B), Jerry Hairston Jr. (OF), LaTroy Hawkins (P), Mark Kotsay (OF), Takashi Saito (P), Josh Wilson (IF), Prince Fielder (1B)
2012 Outlook
Milwaukee has had one of baseball's most interesting offseasons. The main focus, which most people thought was to be on Prince Fielder's departure, was instead on Ryan Braun's positive PED test. Lucky for the Brewers, lasts years NL MVP
won his appeal
, and will be anchoring the heart of the line-up once again. Joining him
will be Aramis Ramirez. Although he's no Prince Fielder, he is a nice consolation prize, and will do his best to fill Fielders spot in the four hole. Ramirez is as consistent as they come; he's a lock for 25 homers and a .300 average every season. The offence should have no problem producing again this year, as Braun and Ramirez are joined by veteran Corey Hart, the often injured but talented Rickie Weeks, and hot-headed Nyjer Morgan. The guy to watch in this group is Mat Gamel. He's got the unenviable job of taking over first in the wake of Fielder's departure. Gamel has shown pop in the minors over the past few seasons (28 long balls last year in Triple-A), but has yet to translate that into big league success. Now that he finally has a chance to start, he could finally break out. Budding star catcher Jonathan Lucroy and defensive specialist Alex Gonzalez (
remember this, Jays fans?
) round out an offence that should be one of the NL's best.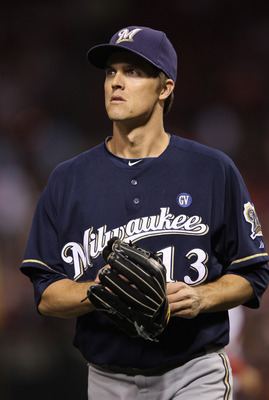 Last year, GM Doug Melvin made some impressive trades that gave the Brewers one the best rotations in the NL. All five pitchers will be returning, and this group looks like it could take it to the next level this year. Former Cy Young award winner Zach Greinke is entering his walk year, and should be motivated to continue from where he left off last year (9-3 over his final sixteen starts). He is joined by another Milwaukee ace, Yovani Gallardo, who is looking to repeat a year in which he set career highs in wins (17) and ERA (3.52), and struck out over 200 batters for the fourth straight season. Randy Wolf and Shaun Marcum are good control pitchers who should stabilize the middle of the rotation. Marcum, who was acquired in a trade with Toronto last season (thank you for Brett Lawrie), was very good last year (he held opponents to a .232 opponents average, and had an impressive 2.21 ERA on the road) before he collapsed late in the season. Lefty Chris Narveson is an above average fifth starter with filthy stuff (lefties hit .212 off him last year), but he needs to harness it better if he wants to take it to the next level.
Canadian John Axford leads a bullpen that will be interesting to follow. Axford, who saved 46 games (
and won stache of the year
), will be set by Francisco Rodriguez, if the Brewers don't trade him. Logic says they might, because if they keep him, he'll be one of the most overpaid setup men in the league (eight million dollars this year). Kameron Loe and Jose Veras will be counted on to fill the void left by LaTroy Hawkins and Takashi Saito. Managing this bullpen will be manager Ron Roenicke's toughest job, but look to Axford to do everything he can to help out.
The Final Count: 79-83*

*No, Milwaukee will not finish with only 79 wins. These rankings were made with a Braun suspension in mind, and even then they still would have won at least 83 (Although some of my fellow editors may disagree). I think that ninety wins sounds about right. Their rotation should be able to carry them, but we`ll see just how much the loss of Fielder hurts.
Make sure to
Like us on Facebook
, and Follow us on
Twitter
.
Feel free to comment below.