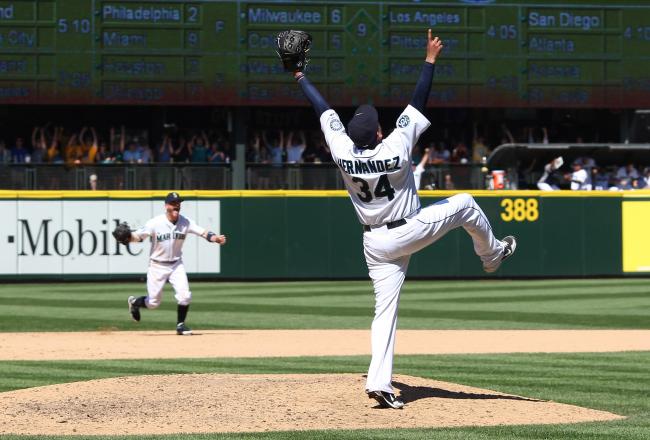 King Felix is good at baseball...
2012 Record:
75-87 (Last in the AL West)
Key Additions:
Raul Ibanez
(1 year, $2.75M)
Oliver Perez
(1 year, $1.5M)
Robert Andino
(Trade with BAL)
Jason Bay
(1 year, $1M)
Mike Morse
(Trade with WAS, OAK)
Jon Garland
(Minor League Contract)
Joe Saunders
(1 year, $6.75M)
Kendrys Morales
(Trade with LAA)
Key Subtractions:
Miguel Olivo
(Minor League Contract with CIN)
Jason Vargas
(Trade with LAA)
John Jaso
(Trade with OAK, WAS)
Shawn Kelley
(Trade with NYY)
Although the Mariners don't have much of a chance of getting to the playoffs this year, they did add a few pieces to their core that could help out their bright future. Not included in the "Key Additons" section was their massive extension of
Felix Hernandez
. If the M's have any real shot of staying relevant in the AL West, King Felix has to be very much on his game. Locking him up was by far the largest move they made this off season, and has put any trade rumours to rest for the distant future.
New guy that will help out the most:
Mike Morse is destined for another powerful year this year, having hit 18 home runs in only 102 games in 2012. He is absolutely crushing the ball this spring, for what it's worth. Also, although SafeCo has been known to be an extreme pitcher's park in the past, the fences have been moved in this year, how much that affects the park's tendencies remains to be seen, but it certainly can't be a bad thing for Morse, as his only real tool is the ability to hit for power.
Spring Training Battles:
Who will be the 5th starter? Brandon Maurer, Blake Beavan, or Jon Garland?
Coming into camp, Beavan appeared to be the favourite for this job, having been with the team for the good part of 2012. Beavan statistically is no star. Last year he posted a 4.85 FIP, to go along with a historically bad K/9 of 3.96. Despite his shortcomings, he has shown the ability to eat innings, so he wouldn't be a nightmare in the 5th spot.
Jon Garland wasn't on anyone's radar to begin the spring, but seemed to emerge as a real candidate as the spring went along, although that seemed to have fizzled, as he has struggled of late and the Mariners are probably starting to realize that this Jon Garland is the same Jon Garland who has posted a career 4.68 FIP.
Righty Brandon Maurer actually appears to be running away with the job. The 22 year old has never pitched above AA, but his stats last year were stellar, posting a 3.02 FIP over 137.2 innings. Although Maurer will likely start the season in the rotation, the leash will be very short for him, given his age and his lack of time in AAA, so you could see Beavan win the job right back during the regular season.
What are the M's going to do with their lineup, with playing time at 1B, DH, LF, CF, and RF up for grabs?
First and foremost, it appears that first base is
Justin Smoak
's job to lose. He has hit very well this spring, making many M's fans excited for what he has in store for them this season. I don't see all that much from Smoak, but he isn't terrible in the field, and the fences moving in at SafeCo should help the already immense power potential that he possesses.
As for DH, the M's will predominantly use Morales, but as we know, Morales is very hit-or-miss, and has been prone to injuries, opening the door for Jason Bay,
Casper Wells
, etc... to get some time there, although the right thing if something happens to Morales would be to put Morse in at DH, as Morse is a defensive liability in every which way.
If you see Morse having time at DH, it's possible that Bay or Wells can play some left field.
Another thing to consider is that
Franklin Gutierrez
, the projected starting centre fielder, seems to have lost his defensive superiority, with a huge decline last year. In 2009, Gutierrez was in the conversation for best defensive centre fielder in the MLB, with a 32 DRS. In 2012, it dropped all the way down to -4 (granted in a small sample size of 40 games). Combine the defensive decline with his inability to hit, you could see Gutierrez out of a starting role during the season, paving the way for
Michael Saunders
to move to centre, making an outfield of Bay/Wells-Saunders-Morse.
Questions heading into the season:
Was extending Felix Hernandez the right move?
This extension was one of the biggest risks that any team took this offseason. The contract will make Hernandez a Mariner right through his prime. He is by far the best player on the team right now. Signing your best player to an extension may seem like a no-brainer, and it really was. Now, the M's must make the most out of locking up an elite pitcher during his prime. The question now is, do you trade your prospects for established big-leaguers, or wait to see if this stacked farm system pans out? With names like
Taijuan Walker
,
Danny Hultzen
,
James Paxton
,
Mike Zunino
, and
Nick Franklin
all expected to be with the M's in the next few years, the future does look bright, but it's possible that trading them now could net you the best value, in terms of an established MLB players. The M's already agreed to a deal to acquire
Justin Upton
, but Upton blocked the deal with his no-trade clause. That proposed deal could give you a hint for things to come, and the M's could be getting a star in the not-so distant future. Whether that it will be the right decision remains to be seen, but risks do have to be taken, if you want to be successful.
Prospect who'll make the most impact in 2013:
Position players Nick Franklin and Mike Zunino are both expected to be with the Mariners at some point this year, but I personally think the player who'll help the most is Danny Hultzen. It looks like Hultzen has no chance of taking the 5th starter job out of spring, but with either Brandon Maurer or Blake Beavan pitching at the back end, a solid start to the year from Hultzen would make it rather easy for him to get a job. The lefty has great command of the strike zone, and has a lights-out slider that I am sure we will see making people look silly for years to come.
Projected Roster (via MLBDepthcharts.com)
Projected 'Go-To' Starting Lineup
1
2B Dustin Ackley*
2
CF Franklin Gutierrez
3
3B Kyle Seager*
4
LF Michael Morse
5
DH Kendrys Morales**
vs RHP
6
C Jesus Montero
7
1B Justin Smoak**
8
RF Michael Saunders
*
9
SS Brendan Ryan
Projected Bench
Projected Starting Rotation
1
RHP Felix Hernandez
2
LHP Joe Saunders
3
RHP Hisashi Iwakuma
4
RHP Erasmo Ramirez
5
RHP Blake Beavan
Projected Bullpen
CL
RHP Tom Wilhelmsen
SU
RHP Carter Capps
BA#7
SU
LHP Charles Furbush
MID
RHP Stephen Pryor
MID
LHP Oliver Perez
MID
LHP Lucas Luetge
Projected Record: 72-90 (4th in AL West)
This team has great potential on their roster right now, with a young bullpen, and possible breakout years from Dustin Ackley,
Jesus Montero
, and Justin Smoak, without even mentioning the great prospects that they have down in the minors. Unfortunately, playing in the AL west won't help them out, as this M's team's record will look awfully similar to what it has looked like these past few years. But, on the bright side, they won't finish in last! Yay Astros!