Andrew Friedman, best GM in baseball.
2012 Record:
92-70 (3rd AL East)
The Rays are my favourite team other than the Jays, and although they always beat up on Toronto, and are rivals with the Jays, it's really hard not to like them. They have the best GM in the game along with a great ownership group, a fantastic manager, and a young cost controlled team that just keeps on refreshing with prospects once players get too expensive and have to leave. The only problem with the Rays is their stadium situation, and unfortunately that doesn't look like it will resolve itself for a while. Tropicana Field is located in St. Petersburg, rather than downtown Tampa, and the horrible stadium can't attract fans because it's so far away from the population centre(and it's hideous). The Rays seem to have the perfect model for a franchise to continue sustainable winning, but if they can't move to a new stadium and reap the profits from it, it's only a matter of time before this franchise takes it's winning model to Vancouver or San Antonio. With this front office staff, a budget of $120M or so would have this team being able to retain home grown talent, and not trade it away before it gets expensive, which, in turn, will lead to the illustrious first title. On to the preview!
Key Additions
OF
Jason Bourgeois
(MILB Deal)
1B
Shelley Duncan
(MILB Deal)
SS
Yunel Escobar
(Trade w/ MIA)
SP
Roberto Hernandez
(Fausto Carmona) (1 year $3.25M)
2B
Kelly Johnson
(1 year $2.45M)
1B
James Loney
(1 year $2M)
RF
Wil Myers
(Trade w/ KC)
SP
Jake Odorizzi
(Trade w/ KC)
RP
Juan Carlos Oviedo
(Leo Nunez) (MILB Deal)
RP
Jamey Wright
(MILB Deal)
Key Subtractions
RP
Burke Badenhop
(Trade w/ MIL)
SS
Reid Brignac
(Trade w/ COL)
SP
Wade Davis
(Trade w/ KC)
OF
Ben Francisco
(MILB Deal w/ CLE)
RP
J.P. Howell
(1 year $2.85M w/ LAD)
3B
Jeff Keppinger
(3 years $13M w/ CWS)
1B
Carlos Pena
(1 year $2.9M w/ HOU)
2B
Will Rhymes
(MILB Deal w/ WAS)
SP
James Shields
(Trade w/ KC)
OF
B.J. Upton
(5 years $75.25M w/ ATL)
Addition That Will Help the Most
I'd write about
Wil Myers
, but I want to save him for the prospect part of the article, so today it's going to be Toronto's least favourite athlete, shortstop
Yunel Escobar
.
Probably one of the most underrated players Toronto has ever seen, Escobar had a down year
Joe Maddon
, he is capable of putting up 3.5+ WAR in a season, made up of supreme defense, okay base running, and the ability to get on base at rate around 35%. Let's just hope he goes back to his 2012 self when he plays the Jays.
offensively in 2012, but was still worth 2.7 rWAR thanks to his incredible defense which saw him save 14 runs for Toronto pitchers, good enough to tie for third in the league of the 21 qualified players. Not only did he have a down year at the plate this past season, but also off the field, as he made a stupid mistake when he wrote a homophobic slur on his Eye Black in a September contest that all but ensured he wouldn't be coming back to the Rogers Centre with the Jays in 2013. So, he was traded to the Marlins when AA stole Miami's heart, and then traded again a few weeks later to Tampa Bay. In his 6 year career, he's had 4 very good years offensively, and 2 not so good years, but unfortunately for him, everybody only remembers the bad years. When he's hot, which I'm sure he will be again in 2013 when he plays for the magical
*I'll be doing 2 prospect profiles to make up for the lack of spring training battles section
.
Questions Heading into the Season
Will the loss of B.J Upton be too much for the Rays offense to handle?
The Rays offense finished 18th in the league last year in runs, in a season that saw
Evan Longoria
miss significant time. Then, B.J Upton became a free agent last November, and moved up a state to play in Atlanta to play with the Braves. With the loss of Upton, a larger question mark surrounds the Rays offence than ever before. With the additions of Escobar and
Kelly Johnson
, a full season from Longoria, and 4-5 months of awesomeness from the uber-prospect that is
Desmond Jennings
Wil Myers
, it might be fine. They won't finish top 10 in the league, but closer to the top than the bottom is definitely not unreasonable for this ever so talented club.
Will the loss of James Shields be too much for the Rays pitching to handle?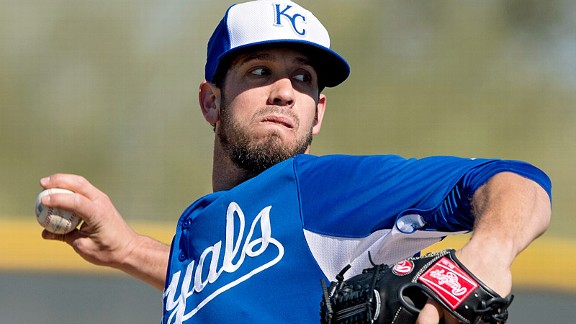 Haha. Don't kid yourself, the Rays pitching is always one of the best in the league, and trading James Shields to the Royals that play in Kansas City is not going to hurt it enough to make a difference. They have 11 major league caliber rotation arms, and only 6 of them are in the majors, so depth isn't a problem either.
Fausto
Roberto Hernandez
is said to be much closer to his 2007 4th place in
Cy Young
voting self to the Hernandez of late, which could only mean good things.
David Price
is one of only 7 or 8 true ACES in baseball, and
Jeremy Hellickson
,
Matt Moore
, and
Alex Cobb
make out a 2-4-5 that can stand it's own with the best in baseball. Then, you got
Jeff Niemann
,
Chris Archer
,
Jake Odorizzi
and more in the bullpen and minors waiting to be summoned into the rotation to mow down opposing hitters. It's truly a beautiful thing they've built in tampa with all this depth. It will be enough to keep up with the loss of Shields.
Prospect(s) Who'll have an Impact in 2013
Wil Myers-
Myers, acquired from the fools over in Kansas City is a top 3 prospect in all of baseball, and will start the season in AAA but should be up soon a la
Mike Trout
. He possesses 60 grade tools all around, and he should be a force in the Rays lineup along with Longoria and Zobrist for years to come. He'll play a solid right field, but he's going to have to learn how to make adjustments against major league pitchers, something he hasn't had to do much because minor league pitching is like kids throwing 40 MPH to him. 30 home runs a year is not too unrealistic for this guy in the near future, and I, and probably many others, can't wait to see him play KC and dominate against them. Myers is a can't miss type of guy, and if the top prospect can stay healthy, Rays fans(or maybe fan?) are going to be blessed once again with being able to watch one of the most young and exciting players in the game.
Chris Archer-
Archer, the second ranked prospect for the Rays, is a 25 year old tall righty who had major league success in 2012, but still qualifies as a rookie after pitching in only 29.1 innings at the major league level in 2012(he posted a FIP of 3.40). His ceiling is a division 1 number 2 starter, and his arsenal is definitely ready to get him to that point sooner rather than later. His fastball sits in the mid 90's with solid movement and is a future 70 grade pitch, and his secondary stuff is also great, with a 70+ slider and plus change. If he does fail as a starter, he can always be great late inning reliever, but expect him to be dominating out of the rotation for many years to come.
I hate how the Rays have no fans yet have such a good team :(
Projected 2013 Roster via MLBDC and BP
Projected Starting Lineup
1
CF
Desmond Jennings
2
LF
Matt Joyce
*
Out of Options
3
3B
Evan Longoria
4
RF
Ben Zobrist
**
5
DH
Luke Scott
*
vs RHP
6
SS
Yunel Escobar
7
1B
James Loney
*
vs RHP
8
C
Jose Molina
9
2B
Kelly Johnson
*
vs RHP
Projected Bench
C
Jose Lobaton
**
Out of Options
IF
Sean Rodriguez
vs LHP
IF/OF
Ryan Roberts
vs LHP
OF
Sam Fuld
*
Out of Options
Projected Starting Rotation
1
LHP
David Price
2
RHP
Jeremy Hellickson
3
RHP
Roberto Hernandez
4
LHP
Matt Moore
5
RHP
Alex Cobb
Projected Bullpen
CL
RHP
Fernando Rodney
SU
RHP
Joel Peralta
SU
LHP
Jake McGee
Out of Options
MID
RHP
Kyle Farnsworth
MID
LHP
Cesar Ramos
Out of Options
MID
RHP
Jamey Wright
LR
RHP
Jeff Niemann
Out of Options
Projected 2013 Record: 90-72 (2nd AL East, wild card spot)
*note that these records will be changing in he final standings piece going up tomorrow.
This projection is pretty low for the Rays, and 95 wins is not of the question for this team. Led by a top 3 rotation, a solid bullpen, and a middle of the pack offense, Tropicana Field is sure to have baseball being played there come October, unfortunately, it won't be sold out...