Born: May 1, 1991 in Medford, New York, US (Age 21)
Acquired via:
1st round
(22
nd
overall) of the 2012 MLB Draft from
Duke University (Durham, NC)

Bats: Right. Throws: Right 
Height: 5' 9", Weight: 185 lb.
Baseball America Ranking: #3
Baseball Prospectus Ranking: #6
Fangraphs Ranking: #7
MLB.com Rank: #5
Minor League Ball Rank: #3
2012 Stats and Analysis
Team/Level

W-L

IP

ERA

WHIP

K/9

BB/9

BABIP

FIP

HR/9

Vancouver

(A-)

1-0

11.1

3.18

0.971

11.9

2.4

.296

1.35

0.0

New Hampshire (AA)

2-0

8.0

3.38

1.750

9.0

6.8

.304

5.08

1.1

Total

3-0

19.1

3.26

1.293

10.7

4.2

---

---

0.5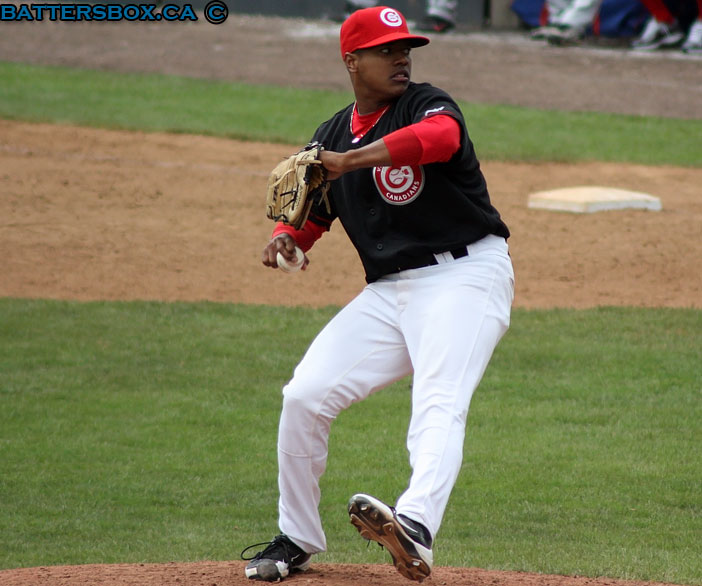 The Blue Jays had a lot of injuries in 2012. Because of this, they needed Marcus Stroman in the majors this past season. This resulted in Stroman going on the fast track to the majors, meaning he would be pitching out of the bullpen. In a small sample size of 11 innings, he dominated while playing in Vancouver against college players, and then got called up to New Hampshire in the hopes that he'd pitch there for a couple of weeks, then make his way up north. Stroman pitched just under 10 innings in AA when he was suspended 50 games for using a banned performance enhancing substance that he had left over from college. Had he been on the 40-man roster, he wouldn't have been suspended, only a warning would have been issued, so it was truly just a case of ignorance, and not Stroman trying to "cheat". His stats were way too small of a sample size to judge anything on, and because of that, there isn't much we can take away from his 2012. His walk rate was horrific in AA, but he didn't even pitch what would be an entire game, so you can't look into anything.
Scouting Report
Stroman was a first rounder this past year for a reason. It wasn't his fastball. Despite his height, his 4-seamer can touch 96 MPH, but sits around 92-93. The height does cause a problem to the pitch though, as, to quote Keith Law, it is "quite flat". It still projects to be a plus pitch (60 grade), but his homer rates will be high due to the lack of movement. He was picked so high because of his slider. The slider sits in the mid 80's, and is thrown to both sides of the plate to both righties and lefties. It has nasty movement on it, and projects to be a wipeout slider with a grade of 70. He also throws a change up that is nothing special, sitting in the low 80's, and will likely be average. He does use it very well, and it definitely keeps hitters off balance.
2013? ETA? Projection?
Stroman is due back from his suspension in early May, and it will be interesting to see where he goes from there. If the club wants him to start, which I imagine is what they are planning now due to, you know, the Jays being good and not needing another rookie reliever, he will likely begin in high A ball playing for the Blue Jays in Dunedin. From there, a move to New Hampshire around the all-star break would likely make sense, where he would finish his season. But, if Alex Anthopoulos and his staff feel that his height, or lack thereof will project better in the bullpen, he'd start in New Hampshire, with a mid-season call-up to Buffalo, and then, eventually, a September call up to Toronto. So, his ETA is September 2013 if he's a reliever, or 2014 for sure, no matter what he is. In a perfect world, he's a number 3 starter, but I rather see him in the bullpen, where his fastball will have extra juice(no pun intended), and his slider keeps batters shaking their heads!
Tomorrow, I take a look at our new 20th prospect(due to the trade), while on Saturday, Isaac will write about number 19, followed by Marshall wrapping everything up with our number one Blue Jays prospect on Sunday. So, stay tuned!


You can follow me on twitter,
@gideonturk
. To connect with the site,
Follow us on Twitter
, and
Like us on Facebook
.