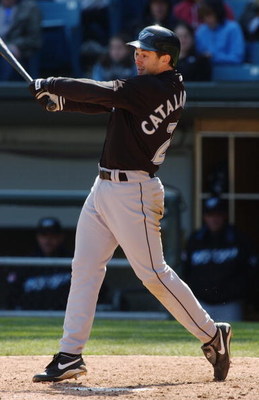 This past week I conducted an interview with retired MLB player, Frank Catalanotto. Frank played for 5 different teams throughout his career, the Rangers, the Blue Jays, the Tigers, the Brewers, and the Mets. While playing for the Jays from 2003-2006, he never batted below .293, and eclipsed the .300 mark twice. His best season of his career came in 2001 while playing for the Texas Rangers, when he batted a dazzling .330, with an OPS+ of 128. He finished his career with a batting average of .291 and an OPS+ of 107. Catalanotto also played for Italy in the 2006 and 2009 World Baseball Classics.
When asked what he thinks about the new Blue Jays jerseys unveiled on November 18th, Frank responded like many of us Blue Jays Fans would.
I love the new jerseys. I think it's great that they are bringing back some old school flavor.
Just like most professional baseball players, Catalanotto gives credit for his baseball career to two people who greatly impacted his career.
Two people were very influential in my baseball career. My dad had the biggest effect on me learning the game and getting me the the opportunity to get drafted. He taught me the game at a young age and worked with me all the time when he would get home from work. When I got into the minor leagues, former major leaguer Larry Parrish helped me make the adjustments to pro ball. He taught me the mental part of the game which allowed me to take my game to the next level.
Since he played for 5 teams throughout his major league career, I asked Frank which team he enjoyed playing for the most, and his answer is perfectly suited for Blue Jays fans.
I enjoyed playing with the Blue Jay teams that I played with from 2003-2006. We had a great group of guys that meshed very well. Just about everyone got along and we had a lot of fun.
Catalanotto is from Italian Heritage, so he played for the Italian team in the WBC in both 2006 and 2009. I asked him if he wants to play again for them in 2013, and he answered like this.
Playing for team Italy in the WBC was definitely a thrill for me. I would love to be able to play in the 2013 WBC but I think I will coach instead.
Although Frank had a lot of great moments in his career, Frank chose the one that almost every player who makes it to the MLB gets to celebrate as his favorite.
I had a lot of great moments in my major league career but I'd have to say that getting my first major league hit would have to be on the top of the list. It was an RBI single at Tiger Stadium against Texas Ranger Rick Helling. I will always remember the hit because I had always dreamed about getting that hit and it made me feel like I had finally made it.
When asked what his stance was on PED's in baseball, and if Ryan Braun should keep his MVP, Little Cat made his opinion very clear.
I feel like Ryan Braun should keep his NL MVP award. I think MLB has done a great job cleaning up the sport. You really don't see many players failing drug tests.
Having played against Albert Pujols before he retired, I asked Frank what he felt about Pujols leaving St. Louis to go to the Angels for more money.
Albert Pujols obviously had his reasons for leaving St. Louis. Whether it was for the money or not we may never know. That being said I would never blame a player for going to another team to get paid more money. People in the real world do it all the time. It shouldn't be any different for professional athletes.
Since this a Blue Jays blog, I asked Catalanotto if he thought Justin Verlander deserved to win the MVP, or if Jose Bautista should have won the award. His answer may surprise some of you.
If I had a vote for the AL MVP I wouldn't have voted for either Bautista or Verlander. I would have voted for Miguel Cabrerra. I don't believe in giving it to a pitcher. They have their own award in the Cy Young. And I wouldn't have given it to Bautista because I do think that it should go to a guy that is on a playoff team. I know there are a lot of people that disagree with that but I have always felt that way.
After Professional baseball players retire, a big portion of them get into coaching jobs when the time is right. Frank is no different than other players.
Right now I am helping coach the Italian National Team with Mike Piazza. I don't do it full time but every so often I meet up with them and help out. I would love to get back into pro baseball at some point but it won't be until my four girls are older. It's nice to be home with them and watch them grow up
To end our interview, I asked Mr. Catalanotto if he likes the direction the Jays are going in, and his answer was just the same as mine would have been.
I do like the direction the the Jays are going in. They have some good young players and a stud in the middle of the line up. I'd love to see them make a big splash and sign a big time free agent like Prince Fielder though. I think the time is right since the Red Sox are in a little bit of disarray and there is that extra wild card spot. Alex Anthopoulos is doing a great job and I'm confident the Jays will be a perennial playoff contender.
I would like to thank Frank Catalanotto for partaking in this interview, and if you want to follow him on twitter, his twitter handle is @fcat27.
The BlueJaysPlus online radio show has been delayed, and the new date will be announced soon.
Follow me on twitter @Bluejaysplus.